Surgery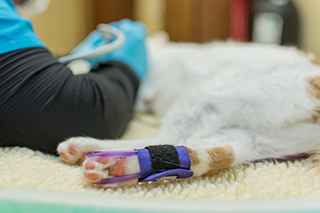 Blood pressure is an important value that we monitor while our patients are under anesthesia.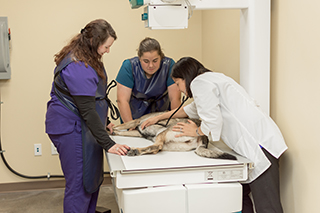 Sedation is necessary at times for radiography. Dr. Julie is carefully monitoring her sedated patient during the procedure.
Surgery:
Our doctors at Troy Veterinary Clinic are trained and well equipped to handle a wide variety of surgical procedures. Our surgery team will carefully monitor your pet throughout the procedure (temperature, heart rate, blood pressure, carbon dioxide levels, and CO2.) If your pets surgical needs require a veterinary specialist, we will refer you to the appropriate specialty clinic and be in contact every step of the way to ensure a successful outcome for your pet. Surgical Procedures we offer at our facility are:
Spays, Neuters, and Cryptorchid Neuters (Undescended testicles)
Foreign Body (Exploratory)
Mass Removals
Dental Cleanings and Extractions
Bladder Surgery (Stone removal)
Stenotic Nares (Repair of nose for flat-faced breeds)
Gastropexy (tacking stomach to abdominal wall in large breed or deep chested dogs)
Eye Enucleation
Cherry Eye Removal
Intestinal Biopsies
Orthopedic Procedures
Amputations
Dewclaw Removal
Ear Hematoma Repair
Pre-Surgical and Post-Surgical Exams:
Our staff at Troy Veterinary Clinic want to provide your pet with the best care possible. We offer free pre-surgical exams with a veterinary technician for routine procedures (spays, neuters, dental treatments.) We will build an estimate at this time to best suit your pet, we assess their vitals, explain the procedure and answer any questions you may have, but most importantly, we want to take the time to get to know you and your pet.
Our commitment to a successful surgery does not end when your pet's procedure is complete. We follow up the next day to ensure that everything went well overnight and address any questions or concerns you may have. We also schedule free post-operative exams to make sure your pet has healed before releasing them back to their normal activity.
Online Store
Visit our Online Store to purchase products for your pets. We have everything you need including food, flea and ticket treatment, pain meds, and supplements. You'll find savings on the products you need from the source you trust!
Visit Store