News and Events
Troy Veterinary Clinic will continue to operate normal business hours during the week on Monday, Tuesday, Thursday, and Friday. We are now closed on Saturday and Sunday.
If you have an after-hours emergency, please contact Associated Veterinary Specialists, 12462 Natural Bridge Road, Bridgeton, MO 63044, phone: (314) 739-3330 or Animal Emergency Center, 2005 Mall St, Collinsville, IL 62234, phone: (618) 346-1843.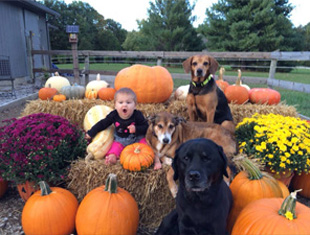 We would like to make our clients aware that the registration fee for rabies tags for our clients in Madison County have increased per Animal Control effective 01/01/2022.
Fees are as follows:
1 year fee on a pet under 6 months - $15.00
1 year fee on a pet of any age spayed/neutered: $15.00
1 year fee on a pet 7 months and older NOT spayed/neutered - $35.00
3 year fee on a pet spayed/neutered - $30.00
3 year fee on a pet NOT spayed/neutered - $30.00
Several boarding facilities are requiring both strains of flu vaccines to utilize their services. Please check with your facility to make sure that your pet is current with their requirements.

Please read the information concerning Canine Influenza - facts, symptoms, and vaccination guidelines.

The Troy Veterinary Clinic staff is dedicated to providing our clients with up-to-date pet information and upcoming events. Please stop back often for updates and special offers!
Pet Care Tips
Do you have a pet that begs for table scraps? It may seem harmless, but some people foods can be dangerous for pets. Ask your veterinarian what scraps you should not feed.
Call today for a FREE Dental Exam to help provide the best dental care for your pet. We offer low-cost dentistry with estimates provided at the time of the exam.
Articles
Check out these articles for more information about your pet's health:

Hypothyroidism in Dogs
Hyperthyroidism in Cats
Cushings Disease
Feline Lower Urinary Tract Disease (FLUTD)
Diabetes - Canine/Feline
Online Store
Visit our Online Store to purchase products for your pets. We have everything you need including food, flea and ticket treatment, pain meds, and supplements. You'll find savings on the products you need from the source you trust!
Visit Store