Welcome to Troy Veterinary Clinic
Providing quality, compassionate veterinary services to Troy IL and the surrounding Metro East Illinois area
We are in the process of a remodeling project at the clinic and hope you can be patient with us for a little bit longer. The final completion date for the interior of the building will be October 13th. We will be forced to close the clinic between the dates of October 8-13th for new flooring to be installed. If you have a sick pet during that time, our sister clinic, Shiloh Veterinary Clinic, will be available to see you during regular business hours. Call 618-622-3778 to schedule an appointment with them during that time. Thank you for being patient with us as we are painting and updating the clinic. If you have an emergency during this time, please contact the Animal Emergency Center at 2005 Mall Street in Collinsville, phone: (618) 346-1843 or Associated Veterinary Specialists at 12462 Natural Bridge Road, Bridgeton, MO 63044, phone: (314) 739-1510.
We understand the concern everyone has regarding COVID-19. Please read what our veterinary clinic is doing to protect our clients and patients. Coronavirus (COVID-19) Letter. If you require 100% social distancing, please fill out this form and email it to us. Once we know when to expect you, we will be ready to meet you at your car and bring your pet into the office. If you have an after hours emergency, please contact Associated Veterinary Specialists, 12462 Natural Bridge Road, Bridgeton, MO 63044, phone: (314) 739-3330 or Animal Emergency Center, 2005 Mall St, Collinsville, IL 62234, phone: (618) 346-1843.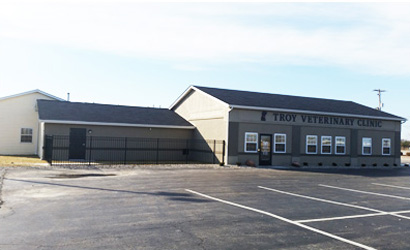 Open in August 2011, Troy Veterinary Clinic offers comprehensive health and medical care services for maintaining and preserving your pet's optimal health. Led by Julie Mears, DVM, our friendly, well-trained staff of avid animal lovers will treat your pet with the compassion and care they deserve. Whether your pet is in need of a routine check up and vaccinations, surgical services or preventative care services, our staff is well trained to offer you a one-stop shop for all of your pet's health needs. We also have an in-house pharmacy and referral access to specialists should your pet need advanced care or medications.
At Troy Veterinary Clinic, we pride ourselves on a clean, friendly atmosphere so your pet, and you, will have the best experience possible from the moment you walk in the door to the moment you take your pet home.
For your convenience, we have also recently added an online store,
visit it here
.
We are open for appointments and emergencies during normal weekly business hours on Monday, Tuesday, Thursday and Friday. We are now closed Saturdays and Sundays.

Hours of Operation:
Monday: 7:45 a.m. to 5:30 p.m.
Tuesday: 8 a.m. to 5:30 p.m.
Wednesday: Closed
Thursday: 7:30 a.m.to 5:30 p.m.
Friday: 8 a.m. to 5 p.m.
Saturday & Sunday: Closed
Online Store
Visit our Online Store to purchase products for your pets. We have everything you need including food, flea and ticket treatment, pain meds, and supplements. You'll find savings on the products you need from the source you trust!
Visit Store