Welcome to Troy Veterinary Clinic
Providing quality, compassionate veterinary services to Troy and the surrounding area
Holiday Schedules-- The Troy Veterinary Clinic will be closing for the Thanksgiving holiday from Tuesday at 5:30, November 21st and will re-open on Monday at 8 am on November 27th. Please check your prescriptions and make sure your vaccines are up to date if you plan on boarding through the holidays. Call 618-667-3820 if you need to make an appointment. Happy Thanksgiving!

If you have an emergency please contact Associated Veterinary Specialists, 12462 Natural Bridge Road, Bridgeton, MO 63044, phone: (314) 739-3330 or Hawthorne Animal Hospital, #5 Cougar Drive, Glen Carbon IL 62034, phone: (618) 288-3971.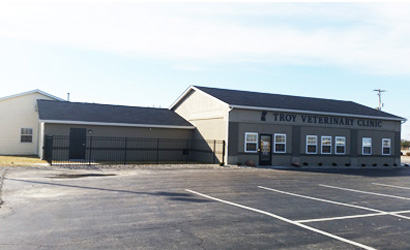 Open in August 2011, Troy Veterinary Clinic offers comprehensive health and medical care services for maintaining and preserving your pet's optimal health. Led by Julie Mears, DVM, our friendly, well-trained staff of avid animal lovers will treat your pet with the compassion and care they deserve. Whether your pet is in need of a routine check up and vaccinations, surgical services or preventative care services, our staff is well trained to offer you a one-stop shop for all of your pet's health needs. We also have an in-house pharmacy and referral access to specialists should your pet need advanced care or medications.
At Troy Veterinary Clinic, we pride ourselves on a clean, friendly atmosphere so your pet, and you, will have the best experience possible from the moment you walk in the door to the moment you take your pet home.
For your convenience, we have also recently added an online store,
visit it here
.
We are open for appointments and emergencies during normal business hours and every other Saturday. The
Shiloh Veterinary Clinic
will be open on the days we are closed and will be happy to see any patient that is ill. Their number is
(618) 622-3778. The schedule is as follows:


Hours of Operation:
Monday: 8 a.m. to 5:30 p.m.
Tuesday: 8 a.m. to 5:30 p.m.
Wednesday: Closed
Thursday: 7:30 a.m.to 5:30 p.m.
Friday: 8 a.m. to 5 p.m.
Saturday (see chart at right) 8 a.m. to 12 p.m.
Sunday: Closed
Saturday hours:
We will be open on:
November 11th
December 9th
January 6th
January 20th
February 3rd
February 17th
March 3rd
March 17th
March 31st

We will be closed on:
November 18th
November 25th
December 2nd
December 16th
December 23rd
December 30th
January 13th
January 27th
February 10th
February 24th
March 10th
March 24th


Online Store
Visit our Online Store to purchase products for your pets. We have everything you need including food, flea and ticket treatment, pain meds, and supplements. You'll find savings on the products you need from the source you trust!
Visit Store